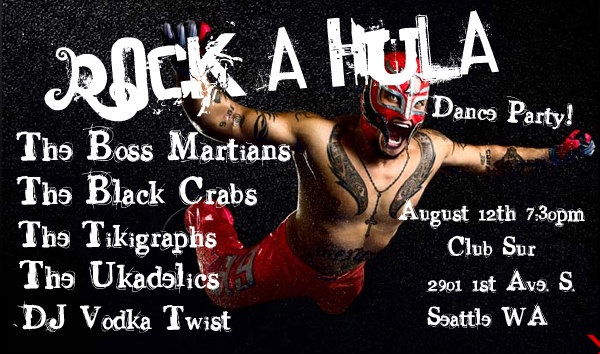 Celebrate summer with 5 great acts on 2 stages...It's Rock-A-Hula at Club Sur!
Sat, Aug 12, 2017 at 7:30pm
Let;'s Celebrate International Tiki Day!
With two rooms full of fun with four great bands, plus optional dinner (see menu below) & themed drink specials..
It;s Rock-A- Hula time baby!
Big Kahuna Stage:
The Boss Martians- Seattle original surf and garage rock guru's
Johnny7 & the Black Crabs- Rockabilly & Swing
The Ukadelics- 8+ member vintage tropical ukulele orchestra
In the Don-Ho Lounge:
The Tikigraphs (playing 2 sets) Playing all the hits & misses of the genre
Plus DJ Vodka Twist spinning all night
*Dinner seating @ 7:30pm- Enjoy the Ukeldelics & wonderful Caribbean food! Club Sur is one of Seattle's truly great supper clubs- spectacular surroundings, massive dance floor, amazing grand booths and fabulous food. For Dinner reservations please call 206-280-5841 or events@seattleclubsur.com- ask about their VIP booth seating options. You can view their dinner menu below
*****Special Tiki cocktail drinks will be available*****
Band Schedule:
7:30 pm— doors open for dinner seating
8:30- 9:20 pm- The Ukadelics
9:20- 9:55 pm - The Tikigraphs
10- 10:45 pm- Johnny7 & The Black Crabs
10:45- 11:25 pm- Tikigraphs
11:30 - 12:15pm - The Boss Martians
12:15- 1:30 am- DJ Vodka Twist
Buy Advance Tickets for $12 until 6pm on day of show.Door tickets are $15 (cash-only please)- they go on sale at 730pm.
Brought to you by Pep Productions- Rocking Seattle's cool party scene since 1994!
Club SUR Dinner menu:
STARTERS
YUCA FRITA (Five pieces of fried manioc root served with cilantro aioli) $7
ENSALADA MIXTA (Baby lettuce with tomatoes, fresh avocado and pickled onions served with $7
citrus vinaigrette)
TOSTONES (Green plantains pounded flat with a garlic aioli sauce) $7
MASITAS FRITAS (Slow simmered pork chunks with a crispy finish) $8
EMPANADAS (Delicious pastries filled with ground beef or chicken) $8
ENTREES
PUERCO ASADO (Slow roasted Cuban style pulled pork topped with pickled onions, $15.95
served with moros and maduros)
VEGETARIAN CUBAN BOWL (Seasonal vegetables simmered in Cuban spices, $15.95
served with white rice and black beans)
CAMARONES AL AJILLO (Sautéed prawns with olive oil, garlic, lemon and herbs, served $18.95
with moros and maduros)
ROPA VIEJA (Shredded flank steak simmered in tomatoes, green peppers, Cuban spices and
white wine served with yellow rice and maduros) $18.95
CHURRASCO (A 10 oz. grilled skirt steak topped with grilled onions, served with Moros
and maduros) $19.50
DESSERT
CUBAN FLAN (Cuban style caramel custard) $6
ARROZ CON LECHE (Cuban style rice pudding) $6
A 20% gratuity will be applied