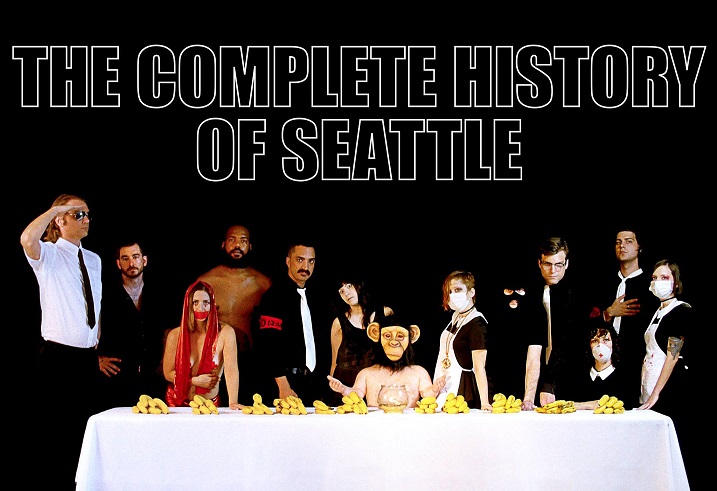 Interesting Productions presents...
THE COMPLETE HISTORY OF SEATTLE


a documentary about Raft of Dead Monkeys

One night only! Join us for a special screening of THE COMPLETE HISTORY OF SEATTLE with filmmaker Nick Toti and band members in attendance!!

SYNOPSIS: In 1999, two Seattle-based Christian rock bands broke up. Their members were frustrated and disillusioned with the creative limitations and ethical complications that came from mixing art, commerce, and sincere religious devotion. The members of these two bands decided to undertake an experiment together. They would start a new band—one that was angry, sarcastic, vulgar, and aggressively antisocial. They would perform in Neo-Fascist uniforms. Their wives and girlfriends would dress up as battered domestic abuse victims while carrying giant pictures of AK-47s. They would feature go-go dancers and male strippers on stage and a performance artist who gorges himself on bananas until puking them into a fishbowl. And their published manifesto would declare that this was the music that would usher in the apocalypse.

They called themselves Raft of Dead Monkeys.

THE COMPLETE HISTORY OF SEATTLE is an experimental take on the tired rockumentary genre. In it, the Raft of Dead Monkeys story is mixed with personal and surreal digressions that explore the larger social/artistic/religious implications of the band within its specific historical context of the City of Seattle at the turn of the millennium—including the part they played in the founding of Mars Hill Church, one of the biggest and most controversial mega-churches in America.