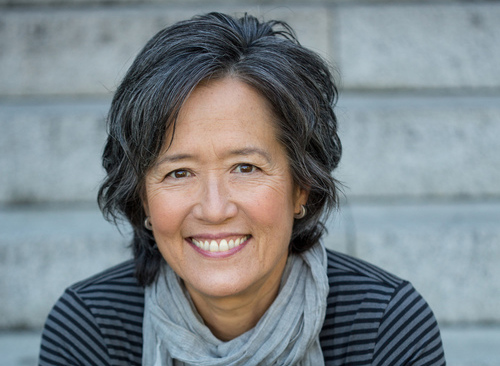 Word Works: Ruth Ozeki
Presented in partnership with Seattle University's Search for Meaning Festival.
Novelist, filmmaker, and Zen Buddhist priest Ruth Ozeki will discuss the craft and art of writing, followed by an onstage Q&A led by Seattle-based writer and journalist Kristen Millares Young.
Ruth Ozeki's most recent book, A Tale for the Time Being, was a finalist for the Man Booker Prize and the National Book Critics Circle Award. In Salon, Junot Díaz called the book bewitching, intelligent, hilarious, and heartbreaking. In her Word Works talk, Ozeki will ruminate on the craft and art of writing. More details on her topic are forthcoming.
Ruth Ozeki's first two novels, My Year of Meats (1998) and All Over Creation (2003), have been translated into eleven languages and published in fourteen countries. Her most recent novel, A Tale for the Time-Being (2013), won the LA Times Book Prize, was shortlisted for the Man Booker Prize and the National Book Critic's Circle Award, and has been published in over thirty countries.
Her work of personal nonfiction, The Face: A Time Code (2016), was published by Restless Books as part of their groundbreaking series called The Face. Her documentary and dramatic independent films, including Halving the Bones, have been shown on PBS, at the Sundance Film Festival, and at colleges and universities across the country.
A longtime Buddhist practitioner, Ruth was ordained in 2010 and is affiliated with the Brooklyn Zen Center and the Everyday Zen Foundation.
She lives in British Columbia and New York City, and is currently the Elizabeth Drew Professor of Creative Writing at Smith College.
—-
"Ruth Ozeki is bent on taking the novel into corners of American culture no one else thought to look—but where she finds us in all our transcultural and technological weirdness." – Michael Pollan
"Ozeki is one of the smartest (and funniest) writers I know, and in this novel she flat-out knocks it out of the park. A Tale for the Time Being is as layered and mysterious as life and it's overwhelmingly wise, reaching across lands and language and time to show the unity, solitude, confusion and hope at the heart of the human experience. A powerful, beautiful book." – Junot Díaz, Salon