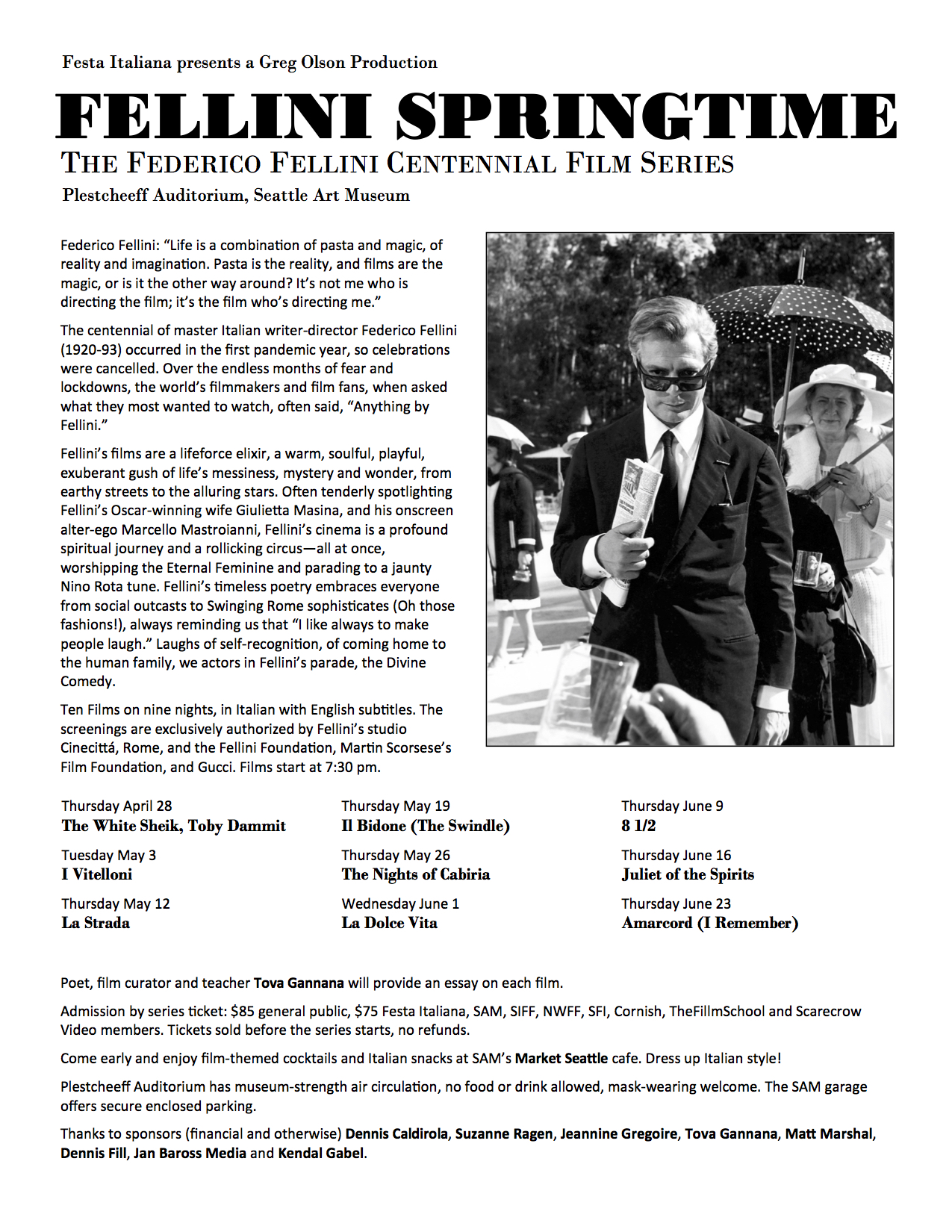 Fellini Springtime: The Federico Fellini Centennial Film Series
General Admission Series Ticket
Single Ticket Thursday May 26: The Nights of Cabiria
more info
A feisty Roman prostitute's (Giulietta Masina) faith in human nature is tested, humorously and hurtfully, but she earns one of the cinema's most life-affirming endings. 1957 Best Foreign Film Oscar,
Single Ticket Wednesday June 1: La Dolce Vita
more info
Mid-20th century Rome is a seductive, endless party for self-critical Fellini alter-ego journalist Marcello Mastroianni, who's capable of more serious work. You want to live in this movie. Top Prize 1960-1961 Cannes Film Festival, New York Film Critics Best Foreign Film.
Single Ticket Thursday June 9: 8 1/2
more info
Here Fellini's alter-ego Marcello Mastroianni is a film director drenched in professional and personal problems. He thinks they imprison him, but they're the key to his art. Martin Scorsese: "8 1/2 is the purest expression of love of cinema." 1963-1964 Best Foreign Film Oscar.
Single Ticket Thursday June 16: Juliet of the Spirits
more info
Everyday, yet fantastical, spirits help a bored, fearful, guilt-ridden housewife (Giulietta Masina) attain self-reliant liberation. Fellini's expansive artistry embraces color film. 1965 New York Film Critics Best Foreign Film.
Single Ticket Thursday June 23: Amarcord (I Remember)
more info
After many Roman adventures, Fellini's poetic, fictionalized autobiography returns to his home town in the 1930s: seasons and families change, the spirit of freedom challenges Fascist intruders. 1974 Best Foreign Film Oscar.
FELLINI SPRINGTIME: The Federico Fellini Centennial Film Series, exclusive in Seattle, honors the Italian master director Federico Fellini (1920-93), whose enchanting films overflow with the humor and beauty, the messiness, mystery and sheer wonder of being alive. Empathetically focusing on everyone from social oucasts to Swinging Rome sophisticates, Fellini shows how "life is composed of magic and pasta, imagination and reality." Fellini says, "I like always to make people laugh." Laughs of self-recognition, of coming home to the human famiy, we actors in Fellini's parade, the Divine Comedy. All the films are restored by Fellini's studio Cinecitta (Rome), The Fellini Foundation, Martin Scorsese's Film Foundation, and Gucci. THE WHITE SHEIK, I VITELLONI, LA STRADA, IL BIDONE, THE NIGHTS OF CABIRIA, LA DOLCE VITA, 8 1/2, JULIET OF THE SPIRITS, TOBY DAMMIT, AMARCORD, in Italian with English subtites. Seattle Art Museum's Market Seattle cafe will offer film-themed cocktails and Italian bites.
Ten films (one per week) over nine weeks) April 28-June 23. Series tickets: $75 Festa Italiana, SAM, SIFF, NWFF, SFI, TheFilmSchool, Cornish, Scarecrow Video and Classical KING FM members; $85 general public. Single tickets: $15.